Caleb Canfield's first three words were 'car,' 'tire' and 'go.' 'Mama' came fourth. 

Caleb's parents clearly knew their young son loved cars from the very start, but it wasn't until 2021 when the family first participated in the Rookie Racers program at Portland International Raceway that their eyes were opened to a world of possibility. 


Caleb's dad, Brian Canfield, is tracking the chronology of his son's motorsports journey with a color-coded PDF timeline. The chart starts with Caleb's birth in 2015 and soon after milestones start to pop up. Five-car related events are shown before the youngster took his first steps. 

"As an infant, he loved watching the Mario Andretti "Super Speedway" documentary. From ages 2 to 3, that's the only thing he would watch on TV," Caleb's father said. "It's really amazing. We literally wore out three DVD discs." 

The Canfields are from Washington and made their first trip to Portland International Raceway for the BITNILE.COM Grand Prix of Portland in 2019. The family returned to the race again in 2021, this time enrolling Caleb into the Rookie Racers program. 

"It was definitely a pivotal moment for us," he recalled. "We knew he loved cars. We knew he loved racing, but we didn't have any thoughts of necessarily trying to help him become a race car driver seriously."

That thought process began to change over the three-day event in September of 2021. 

The Rookie Racers program allowed Caleb and his parents to get a behind-the-scenes look at what it's really like to participate in motorsports. Caleb and his fellow Rookie Racers got to explore multiple car setups in the paddock and meet drivers, including seven-time NASCAR Cup Series champion and former NTT INDYCAR SERIES driver Jimmie Johnson.  

While Caleb was having the time of his life, his dad got the chance to network with drivers, team members and parents of the drivers. 

"We were just deeply embraced with the warmth of the racing community," Caleb's father said. "To this day, I've become friends with some of those people we met around the time of those Rookie Racer activities, and it's just opened the door wide open for Caleb." 

The main piece of advice Caleb's dad received from the motorsports community was to get Caleb racing in indoor go-karts. Less than a year later, the Canfields bought Caleb a go-kart. Two months after that, in his second-ever race, Caleb nabbed his first checkered flag, and he hasn't looked back. 

Caleb, now 7 years old, is literally off to the races. He's scheduled to run 20 races total this year at six different tracks spanning the Pacific Northwest from the Canadian border to Boise, Idaho, and he's already racking up more podium finishes.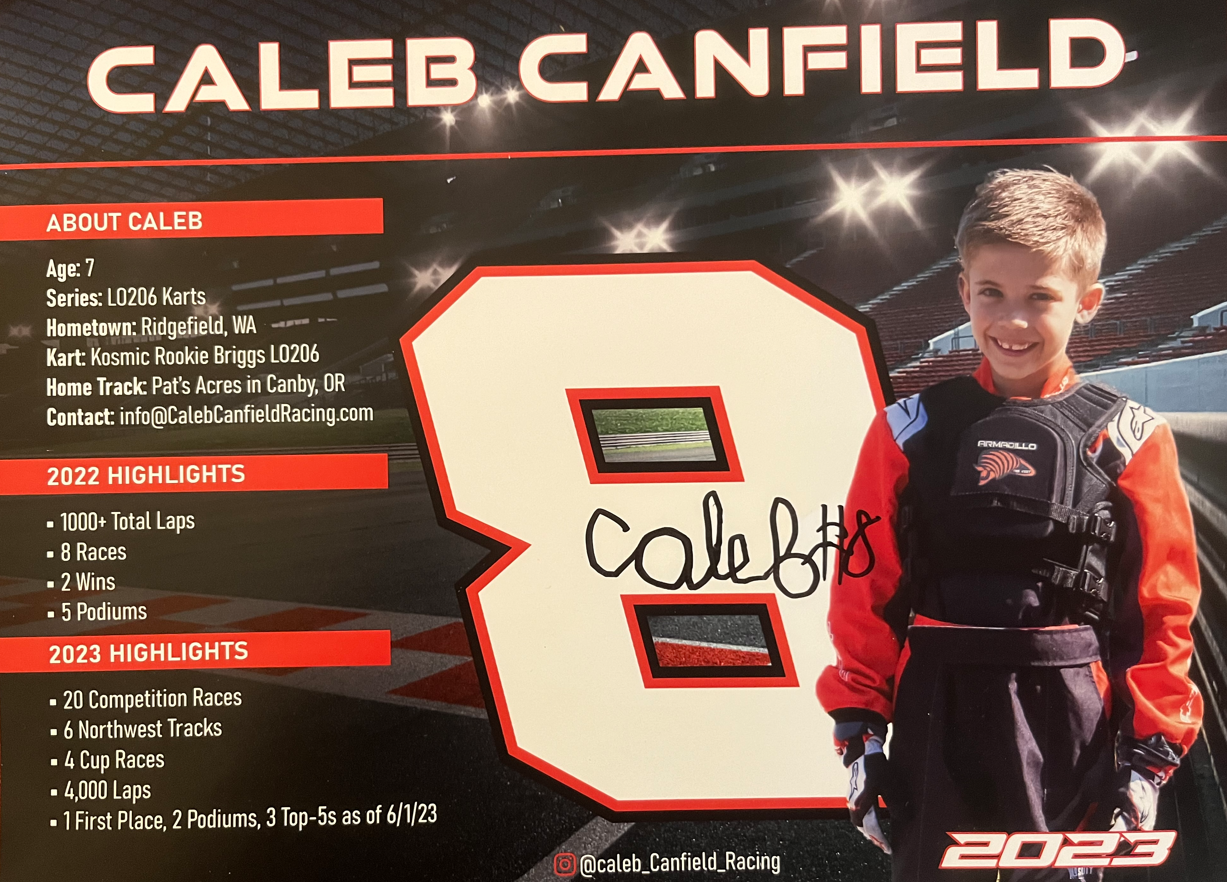 The proud father is grateful to the Rookie Racer experience for helping get his family started on this exciting path, and he encourages other parents to sign their little ones up, too. 

"I would say do it without thinking," Caleb's father said. "The Rookie Racer program gives a unique and exclusive look into what it's like to be a race car driver. It's a great opportunity for the kids to actually meet the race car drivers and ask them questions and see what it's really like to be racing, rather than just a seat in the grandstands watching the cars go by." 

Caleb himself is a big fan of the program as well. 

"The Rookie Racer program will be fun for them (participants), because they get to do stuff they wouldn't get to do if they aren't in it," Caleb said. "The best part of the Rookie Racers is meeting the race car drivers." 

Kids ages 5 to 12 have the opportunity to participate in the Rookie Racers program during the upcoming BITNILE.COM Grand Prix of Portland weekend, Sept. 1-3. Parents are encouraged to register their children HERE.